A Dedication to Resourceful Living: A group approach to focus on what matters to the members of our community whose lives are impacted by chronic lung disease.

---
---
---
---
NEW! ONLINE VIDEO FROM THE SEPT MEETING
Pulmonary Fibrosis and its stages
In this video recording of the Sept meeting, Dr. Dan Grinnan talks about Idiopathic Pulmonary Fibrosis, what this ailment is and the challenges in treating it.
This presentation features Dr. Grinnan discussing causes, the difficulties in diagnosis, and the varieties of treatment. A question and answer period is included at the end of the talk (part 6).
Video recorded September 9, 2013, at Kraus Auditorium at the Chippenham Medical Center, Richmond, VA 23225
Entire video is also online at the youtube.com Breathmatters site (along with 58 other videos from other Breath Matters events)
---
Donor Obituary: Hampton H. Rasnick

Hampton Hobert Rasnick, 82, of Chester, passed away on Wednesday, Sept. 4, 2013. He was the son of the late Hobert and Milly Stanley Rasnick. He was also preceded in death by: three brothers and two sisters. Mr. Rasnick served his country proudly in the Navy on the USS Coral Sea.
...His family will receive friends from 6 to 8 p.m. on Friday, Sept. 6, 2013, at the Hopewell Chapel of J.T. Morriss & Son Funeral Home and Cremation Service. Interment will be private.
In lieu of flowers, memorial contributions may be made to Breath Matters,
c/o Russell Glover, President,
11520 Edenberry Drive,
Richmond, VA
23236-4030
Or on line at www.breathmatters.org.
Condolences may be registered at www.jtmorriss.com.

Read the full obituary at The Progress-Index
---
---
Latest Blog Posts from Breathmatters
---
Jan 7
Useful websites
Proper inhaler use: www.use-inhalers.com/inhaler-training Find help with the cost of medication: www.needymeds.org Lung & Heart Health: www.onebreath.org Figure how long your oxygen tank will last:  http://www.respondo2.com/calculator Sun-style Tai Chi (easiest for COPD patients) $5 DVD: http://www.turtlepress.com/Tai_Chi_for_Life_Sun_Style_DVD_p/72.html Website list courtesy: www.pulmonarypaper.org
Read More...
---
Dec 22
Watch: How to Use Advair Diskus & Spiriva Handihaler
Diskus http://www.youtube.com/watch?v=hNcCvMxrSiQ Handihaler http://www.youtube.com/watch?v=vDtOzRmI80k
Read More...
---
Nov 21
Slideshow: 10 Smart Exercises for People With COPD
With COPD, the less you do, the less you're able to do. Weak muscles need more oxygen, so you can become short of breath just shopping or cooking. Exercise changes that. The more conditioned your muscles, the easier daily activities … Continue reading →
Read More...
---
Nov 10
Glaxo starting first US inhaler recycling program
TRENTON, N.J. (AP) — Patients who use respiratory inhalers will be able to recycle the devices for the first time in the U.S., according to British drugmaker GlaxoSmithKline PLC, which is launching its "Complete the Cycle" program in drugstores in 31 … Continue reading →
Read More...
---
Questions? Call the Facilitator, Russell Glover (804) 378.0628. Donation in Memoriam page
---
OUR SPONSORS
Chippemham Hospital of CJW is our largest supporter
Lincare, Rachele Clement, Representative
Louisa Home Care, Roger Householder, Representative
Roberts Home Medical, Jo Lynn Hamelman Supervisor
---
DAVID
SANDERS
David was a Board Member for Breath Matters.
Obituary Notice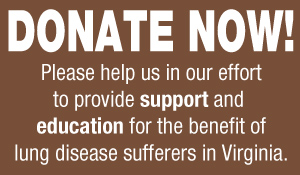 Resource links
More links being organized, if you have suggestions of good, quality information sources, please send it to us.
SUBSCRIBE TO OUR FREE NEWSLETTER!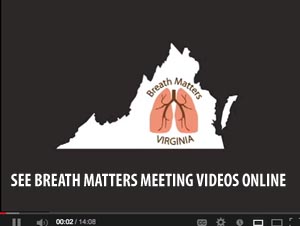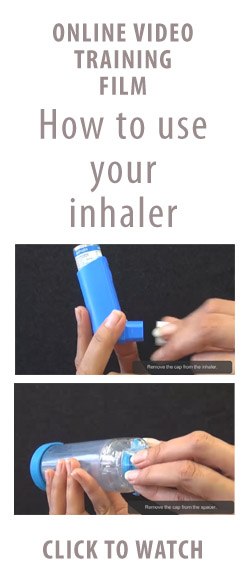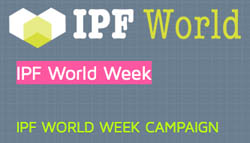 LEARN MORE AT
THE IPF WEBSITE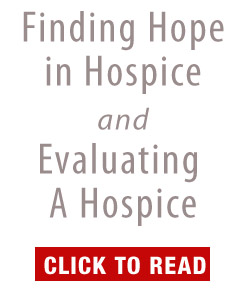 Benefits of Joining A Support Group
With an illness like Lung Disease, often a feeling of hopelessness and loss of control becomes the norm. With a support group, participants are able to regain that sense of control and exercise authority toward management of their situation.
Support groups can be instrumental in improving psychological motivation. By simply getting "out of the house" and joining with other people with an understanding of the problems being faced, a positive attitude can be nurtured and improved.
WHO CAN JOIN
Any individual that is lung affected can become a member. However, recognizing that it is not only the individual with the lung disease that needs support we encourage the caregivers or "care partners" and other family to join and attend the meetings. Learning and receiving support together helps to equalize the disease experience for all who are involved.
HELP US!
Do you know of a currently operating pulmonary support group? We are compiling a list for this website: if you know of one, let us know. Thanks.

For seniors and adults with disabilities and the providers that support them
TRANSPORTATION FINANCIAL
HOUSING
Virginia Easy Access is the name of a website developed for seniors, adults with disabilities, their caregivers and the providers that support them. Virginia Easy Access is full of helpful information about services and supports that are available across the Commonwealth.

Website: Virginia Easy Access
Questions?
Call the Facilitator!
Russell Glover
(804) 378.0628
russellglover@
verizon.net
Stop Smoking Today Online!
Contact Susan J. Keen,
RN, OCN at
CJW Med Center

email: Susan.Keen [at] hcahealthcare.com
2015 Meetings
---
---