SPECIAL NOTICE
The VCU pulmonary division is moving their clinic from the ACC to the AOP building on December 6th. The Stony Point clinic will remain the same.
AOP
1001 E. Leigh St Richmond, VA 23219 On the corner of N. 10th St and E. Leigh St.
VCU is changing the electronic medical record system on December 4th. Any patient that uses the patient portal will have to set up a new account in the new system. They should be receiving notifications in their current patient portal.
---
DUE TO THE CURRENT PANDEMIC, BREATHMATTERS MEETINGS ARE BEING HELD ONLINE - COME MEET WITH US ONLINE! Learn More
Monday, October 11, 2021
Speaker: JANET PINSON, ACNP FNP
Pulmonary Disease and Critical Care Medicine
Topic: PFT's - Pulmonary Function Tests
A recording of the October meeting was recorded and is available.
---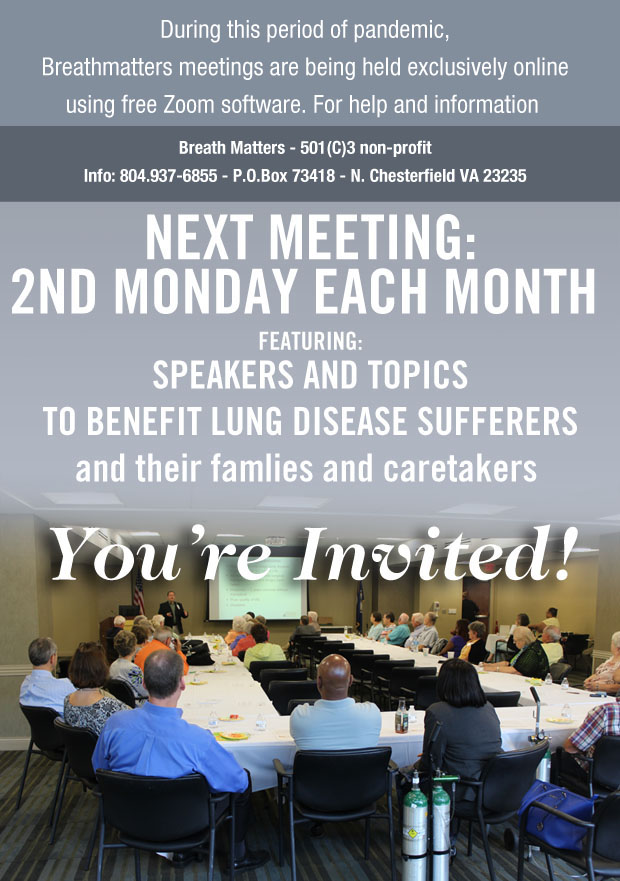 ---
---
Last Page Update: Sepotember 28, 2021
---